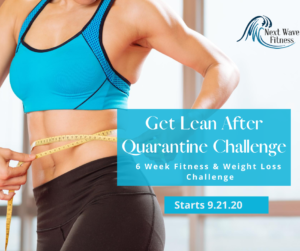 $250* for the top winner!
All levels and abilities are welcome
Challenge runs September 21-October 31
Rules of the Challenge:
The Get Lean After Quarantine Challenge fee is $50 for members in addition to current membership. For non-members fee is $199 which includes the 6 week challenge with unlimited classes, all challenge bonuses and the challenge fee.  Non-member individuals who select to not attend Next Wave Fitness classes, they may join the challenge for $75 which includes challenge fee and all challenge bonuses.
The beginning weigh-in must be between September 18th-September 21st and the final weigh-in must be done between October 28th-October 31th(No final weigh-in after 12noon on October 31st)

All participants must register and check-in each class visit to Next Wave Fitness.

It is recommended that all participants complete a minimum of 3 workouts per week.

Mandatory weight-ins. If you fail to weight-in within the specified dates, you will be disqualified. You may weight in early but MAY NOT weigh in late:

1st Weigh-In: September 18th-September 21st

2nd Weigh-In: October 1st-October 5th

3rd Weigh-In: October 15h-October 19th

4th and Final Weigh-In: October 28th-12:00noon October 31st

Participants must weigh in without shoes

Participants can come anytime during Next Wave Fitness working hours to weigh-in but must check in with a staff member to log their weight

Non-members must come to the studio for every weigh-in

Before and after photos are not required but highly recommended.

The top individual that loses the greatest percentage of their starting weight wins the Grand Prize of $250*

Additional prizes can be earned by attending class frequently, checking in on Facebook, doing a review, measurements or before/after pictures, providing a testimonial and bringing a friend. More details to follow.

The top individuals will be announced on Monday , November 2ndh!!

*

Based on a minimum of 10 participants. If more than 10 participants, the bigger the Grand Prize money!
Class Information:
All sessions will be held at Next Wave Fitness, 2140 Rt 88, Brick, NJ

Class times are available 6 days per week

Classes can be viewed online at the link listed below:
Register Below to hold your spot:
New Membership with 6 weeks of unlimited classes $199
Non-Members Challenge Only $75