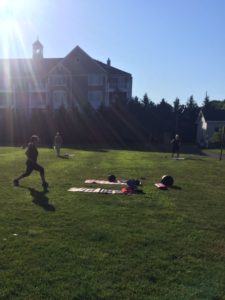 OUTDOOR CLASSES
Welcome and thanks for your interest in our outdoor classes!
It seems gyms are not opening anytime soon. But, if you love group fitness and miss the gym and your class mates, we have a solution for you: taking classes outside.
We provide a program that gets your metabolism cranking, improves your cardio along with building muscle and making you a stronger person. Class sizes are smaller so you get that personal attention and are assured a safe and fun environment and an effective training session.
Drop-in any time, no reservation needed. Bring a mat, towel, water and your own weights and we provide social distancing and the disinfectant wipes. If don't have weights, no worries-we have extras to share.
All levels and abilities are welcome. Modifications are provided as needed so you can complete your session safely and effectively.
---
Overview of program:
Outdoor classes are being held at Riverfront Park-River Ave, Point Pleasant, NJ

Class times:(weather permitting)

Monday-Friday 7am

Monday, Tuesday, Thursday-6pm

Saturday-8am

Sessions are scheduled 60 minutes in length

For days off from the studio, optional at home works will be provide to help keep you focused

Classes will focus on whole body, fat burning, body weight and strength exercises

Workout effectively and within your own limits, regardless of your current fitness level

Class includes modification options so you can stay safe and avoid injury

Be part of our private Face book community for support from other members and trainers

Nutritional support and guidance
Questions or need more info?
---